Investor Relations at Verkkokauppa.com
If you need more information about Verkkokauppa.com as an investment, please contact Investor Relations. Verkkokauppa.com's Investor Relations is located in Helsinki, alongside with Jätkäsaari store.
Verkkokauppa.com serves investors and analysts by answering the enquiries by phone or e-mail, or at the investor meetings arranged. Please send all the meeting request to Investor relations.
Verkkokauppa.com observes a 21-day period of silence before releasing financial reports. During the silent period Verkkokauppa.com does not meet with representatives of the capital markets. The dates for financial results announcements and silent periods are available on the investor calendar on company's website.
Contacts for Investor Relations: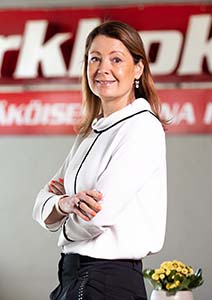 Marja Mäkinen
Head of Investor Relations and Corporate communications
Tel. +358 40 671 2999
marja.makinen@verkkokauppa.com

Mikko Forsell
CFO
Tel. +358 50 434 2516
mikko.forsell@verkkokauppa.com

Address: Tyynenmerenkatu 11
00220 Helsinki

Please send all general inquiries to: investors@verkkokauppa.com
Here you can find a list of Financial analysts and brokers who follow Verkkokauppa.com's development.